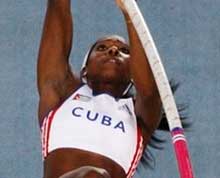 Brasilia, May 19.- Cuban Yarisley Silva 4,65 m jump is the new Polevault record at the Grand Prix of Sao Paulo, Brazil.
Silva -Pan-Am champion of Guadalajara-2011 and finalist in Daegu-2011- was trailed by Brazilian Fabiana Murer (4,50), last year's World Champion, and Cuban Dailis Caballero (4,40).
Shotput and javelin also hoarded Gold medals through Misleydis Gonzalez -whose 18,53 m pushing back Chilean Natalia Duco (18,11) and Brazilian Geisa Arcanjo (17,63)- as Yanelis Ribiaux's implement marked 59,03m and Janet Cruz's 57,86 m-Silver; and host Laila Ferrer's 57,82.
Cuba also won two Silver medals in tripplejump – Osviel Hernandez 16,32m- and discus thrower Jorge Fernandez (62,28), while Carlos Veliz scored a Bronze in shotput (19,73m).
The Caribbean Island came in third to clock 3.05.9 in men's 4 x 400 meters after Brazil A – 3.04.53 and Venezuela (3.05:01). (Prensa Latina).